JANOME MOD19
JANOME S-3015 SCHOOL MODEL

HD3000 HEAVY DUTY SEWING MACHINE


JANOME HD3000

HD3000 HEAVY DUTY SEWING MACHINE



Out of Stock
JANOME SEWIST 725S
Out of Stock
JANOME 3160QOV - QUILTS OF VALOR LIMITED EDITION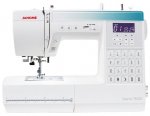 JANOME SEWIST 780DC
SALE:
$ 1,099.00

$ 699.00





JANOME HORIZON MEMORY CRAFT 15000 QUILT MAKER

The Horizon Quilt Maker Memory Craft 15000 ? The Quilt Maker brings new features to the 15000 and an update to version 1.31 of Horizon Link Suite. Customers will enjoy the new Ruler Foot, 1/4" Foot, and new stitch tapering feature. The machine still inclu


JANOME CONTINENTAL M7 PROFESSIONAL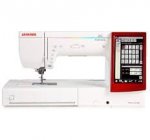 JANOME HORIZON MEMORY CRAFT 14000

A sewing, embroidery and quilting machine that includes 400 built-in stitches with 13 one-step buttonholes. 350 built-in embroidery designs and 11 monogram fonts with 2&3 letter functions. Real-Time PC Connection for on-board embroidery design editing thr



Out of Stock
JANOME HORIZON MC9450QCP

Professional Series Sewing and quilting free arm machine with intelligent features. NEW for the 9450: AcuFeed Flex Professional Grade Foot (HP2), Superior Needle Threader with #7 Thread Guide, Tapering Stitch Function and 1.5x Brighter LEDs and Auto-Power


JANOME MEMORY CRAFT 6700P

Janome Memory Craft 6700 Professional 10" BED SPACE 1200SPM 9MM STITCH WIDTH



Out of Stock
JANOME HD9 HIGH SPEED SEWING MACHINE
JANOME SKYLINE S9
JANOME DC2019
Out of Stock
JANOME SKYLINE S7
JANOME SKYLINE S6
JANOME MC550E
JANOME 5300QDC-T

JANOME 3160QDC SEWING MACHINE WITH EXTENSION TABLE Add $20.00 for shipping on-line order, FedEx continental 48 states, Alaska & Hawaii extra.


JANOME MEMORY CRAFT 400E

Janome Memory Craft 400E Embroidery Only Machine. 7.9"X7.9" MAX hoop size with Thread cutter. CALL 541-383-1999 FOR INFORMATION


SALE:
$ 2,499.00

$ 1,399.00





JANOME MEMORY CRAFT 230E

EMBROIDERY ONLY WITH 5X5 HOOP, ON SCREEN EDIT FUNCTION, DESIGN TRANSFER VIA USB STICK, 3 FONTS AND 73 DESIGNS BUILT IN. GREAT ENTRY MODEL. SPECIAL ORDER ALLOW 10-14 DAYS DELIVERY. SHIPPING CHARGES APPLY.


JANOME MB-4 WITH RCS UNIT

Memory Craft MB-4 With RCS unit. 4 needle embroidery machine.


SALE:
$ 7,999.00

$ 4,999.00





JANOME HD1000

HD1000 HEAVY DUTY SEWING MACHINE Add $20.00 for shipping on-line order, FedEx continental 48 states, Alaska & Hawaii extra.



Out of Stock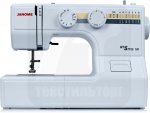 JANOME MYSTYLE 100
JANOME JEM GOLD

Jem Gold Sewing Machine



Out of Stock
JANOME 2212

Janome 2212



Out of Stock
JANOME 2222

Janome 2222, Free Arm, 1-step buttonhole, 22 stitches, all metal hook & bobbin case. Add $20.00 for shipping on-line order, FedEx continental 48 states, Alaska & Hawaii extra.



Out of Stock
JANOME SKYLINE S3